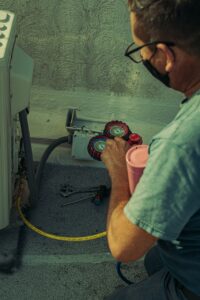 No one wants to be caught in the middle of a hot North Carolina summer with a malfunctioning AC system. The best way to prevent that from happening is a preventative maintenance trip from our professional AC technicians. It's no wonder we get a lot of questions this time of year from customers wanting to know the difference between an AC tune up and Jay's Comfort Plan. Here we break down the similarities and differences so you can make the decision that best meets your family's needs before the heat of the summer sets in!
Both an AC tune up and Jay's Comfort Plan provide an identical preventative maintenance visit in the spring to reduce the cost of breakdowns, increase efficiency, and reduce energy costs. Both cost $85+tax and include the following services:
Lubricate all moving parts
Check pressures and temperatures
Replace customer-provided air filter
Clean outdoor condenser coil
Check blower motor (and belt if applicable) and evaporator coil
Check thermostat, humidity, and service light
Test and tighten wire and connections
Test all controls for operations and "temperature drop" at return and supply air
Measure refrigerant superheat and subcooling
Flush condensation drains to prevent overflow
Wash outside condenser cabinet
Test for worn bearings
The differences between an AC tune up and Jay's Comfort Plan begin when we inform the client of equipment conditions and any repairs needed. After you've been enrolled in Jay's Comfort Plan for one year, you will receive 10% off all heating and cooling repairs up to $400 AND a complimentary annual ductwork inspection. Other perks include priority scheduling, preferred pricing, flexibility (when you move, your plan moves with you), and best of all, there is no need to remember to schedule preventive maintenance visits. Our office will contact you to schedule your AC tune up in the spring and your heating system maintenance visit in the fall.
It's not too late to enroll in Jay's Comfort Plan this spring. Learn more about Jay's Comfort Plan including how you can sign up, or contact our office with any questions. Our customer service representatives are standing by ready to answer your call. Whether you opt for an AC tune up or Jay's Comfort Plan, we look forward to keeping your home cool all summer long!