Raleigh Heat Pump Repair and Replacement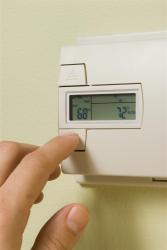 With the cost of home heating fuel constantly on the rise, there's never been a better time to perform maintenance or upgrade an existing system to maximize efficiency. Having a professional provide Raleigh heat pump maintenance and repair is a great way to ensure your home remains warm and electricity bills remain affordable. The unit draws heat from the air outside your house, just like an air conditioner does. And just like an air conditioner, heat pumps can be used to cool your home. There's no need for separate heating and cooling systems, this unit does it all. Also of great importance, they are better for the environment as there's no burning of fossil fuels.
At Jay's Heating and Cooling, we offer a complete range of home heat pump repair, replacement and maintenance services. We're Raleigh's HVAC experts and are eager to help save you energy by maintaining your system for maximum efficiency.
Have an older heat pump that's too noisy or simply not doing the job? Usually, some minor maintenance and adjustments can get back on track. Jay's Heating and Cooling will gladly restore your older unit and get it running in no time. Save money and energy this winter with a Raleigh heat pump maintenance from Jay's Heating and Cooling. To schedule a free estimate, contact us.
Heat Pump Replacement
Our technicians at Jay's HVAC specialize in delaying the need to install a replacement heat pump. Our heat pump maintenance services extend the life of your unit as long as possible to maximize your investment. However, when the time comes that the cost of repairs outweighs the cost of the unit, our heat pump replacement service will return comfort to your home for many years to come. We work with local distributors to keep your costs down without sacrificing quality. Our heat pump installations come with a 10-year manufacturer's warranty so you can relax comfortably in your home for many years to come. Contact us today to find out more about our Raleigh heat pump installation services.