Raleigh Air Conditioning Repair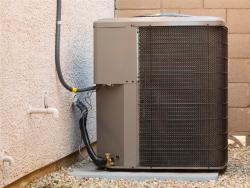 Jay's Heating and Cooling provides the highest quality service for air conditioning repair in Raleigh. With our hot temperatures during the summer months, it is very important to have a quick response from an AC repair company you can rely on. That is why Jay's Heating and Cooling provides quick service and unbeatable results.
Having your AC repaired can sometimes be an extremely costly headache. That is exactly why we take pride in customer service at Jay's Heating and Cooling and offer incredible rates. Every project completed leaves our clients happy or we continue working until they are 100% satisfied. Whether it's residential or commercial, we supply trained professionals that will keep you cool throughout those hot summer months.
Is your AC system no longer cooling your home? There are a number of reasons your system may not be operating correctly. We recommend shutting off your system and calling our team right away. Continuing to run a malfunctioning system can often lead to further issues. Our professional AC repair technicians have the knowledge and experience needed to confidently diagnose and repair any issues leaving your home cool and comfortable. Contact our office today to schedule your appointment.