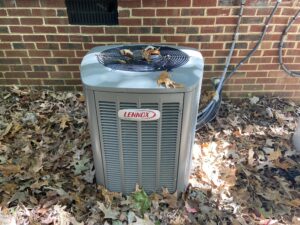 Even though temperatures can still climb into the upper 70s/low 80s, there's no denying the fall season is here. With the crisp evening air, chilly breezes, and changing leaves, it's important to prepare for the leaf fall. Read on to learn two ways to prolong the life of your unit throughout the cooler months.
Keep 3-4 Feet of Clearance Around Your Unit
Falling leaves are the largest challenge homeowners face in trying to keep clearance around their outdoor HVAC unit. We recommend blowing leaves 3-4 feet away from the unit 2-3 times per week minimum throughout the leaf fall season.
This is also a great time for fall pruning. Remember to always clear away any clippings after pruning your trees, bushes or hedges.
Because grass clippings are small, they are particularly susceptible to interfering with the efficacy of outdoor units. Be sure to clear all grass clippings away from all outdoor units after every mow.
Covering Your Outdoor Unit
The best way to winterize and protect your outdoor unit from debris (leaves, clippings, and even dirt) is to cover it in the cooler winter months when it is not being used. Here are some considerations to keep in mind before you purchase a cover.
Never turn the AC on when the cover is in place. Although some manufacturers sell mesh covers, we do not recommend you place a cover on a unit until the higher temps that require the use of AC are completely finished.
Contact your manufacturer before you purchase a cover for your outdoor unit. Not all units should be covered and not all units need the same kind of cover. Manufacturers will recommend the size, style and brand of cover that will work best for your unit.
At Jay's Heating and Cooling, we want to help you protect your investment. We believe following the above recommendations will extend the life of your outdoor unit. However, there is no better way to protect your investment than to schedule your fall HVAC maintenance appointment. If you haven't scheduled your appointment yet, it's not too late. Call (919) 798-4455 today to get on our schedule!